Download
INFORMACION
HandBrake v1.0.2, Transcodificador de Vídeo Multiproceso
HandBrake es un todoterreno de la conversión de vídeo pensado para exprimir archivos de vídeo y DVD para sacarles todo el jugo.
Gracias a los perfiles con que cuenta HandBrake, podrás convertir películas para verlas sin problemas en tu iPod, iPhone o AppleTV.
HandBrake permite realizar distintas tareas junto con la conversión, como añadir subtítulos a tus películas y nuevos canales de audio, cambiar la resolución del vídeo o cortar un fragmento eliminando los bordes.
Características:

Multi-plataforma, multi-threaded Vídeo transcodificador
Codificación de vídeo con un formato universal (H.264, MPEG-4, MPEG-2, Theora)
Formatos de archivo (MP4 y MKV)
Codificación de audio (y de tránsito) – AAC, MP3, FLAC, AC3, DTS, DTSHD, etc
Soporte de subtítulos (SRT, SSA, VOBSub, Closed Captionss)
Filtros (DeInterlace, DeTelecine, Deblocking, Cropping, Scaling)
Capítulos / Chaptes
Presets para casos de uso comunes

Cambios Recientes:
HandBrake 1.0.2 Released Highlights Monday, Jan 23, 2017
### All platforms
#### Video
– Fixed point to point encoding end point when using frames as the unit
– Improve error handling for libdvdread and libavcodec decoders
#### Audio
– Fixed an issue where fallback encoder bitrate was not set properly
#### Subtitles
– Fixed incorrect duration for UTF-8 subtitles
– Fixed an issue causing extra blank lines for UTF-8 subtitles in MKV
### Linux
– Fixed an issue sometimes preventing dragging and dropping of presets between folders
– Miscellaneous bug fixes
### Mac
– Fixed video encoder options not reset when changing encoders
– Fixed incomplete encodes where the chapter count differs on queued items
– Fixed sleep prevention not working in certain scenarios
– Fixed automatic naming for EyeTV bundles
– Added additional checks to prevent source file overwriting
– Miscellaneous bug fixes
### Windows
– Fixed video encoder options not reset when changing encoders
– Fixed subtitles defaults behaviors to improve how tracks are added
– Fixed issues related to source maximum and custom picture setting modes
– Fixed point to point settings when editing a queued job
– Fixed When Done controls not updating correctly on various screens
– Fixed split buttons not working correctly on audio and subtitles tabs
– Fixed destination path and file name error checking
– Fixed potential crash by disabling OpenCL detection when the scaler is not set to OpenCL Bicubic (workaround for broken system drivers)
– Fixed a potential crash when QSV is supported but disabled at the BIOS level
– Fixed memory leaks in the QSV encoder
– Added QSV detection for Intel Kaby Lake CPUs
– Miscellaneous bug fixes
REQUISITO DEL SISTEMA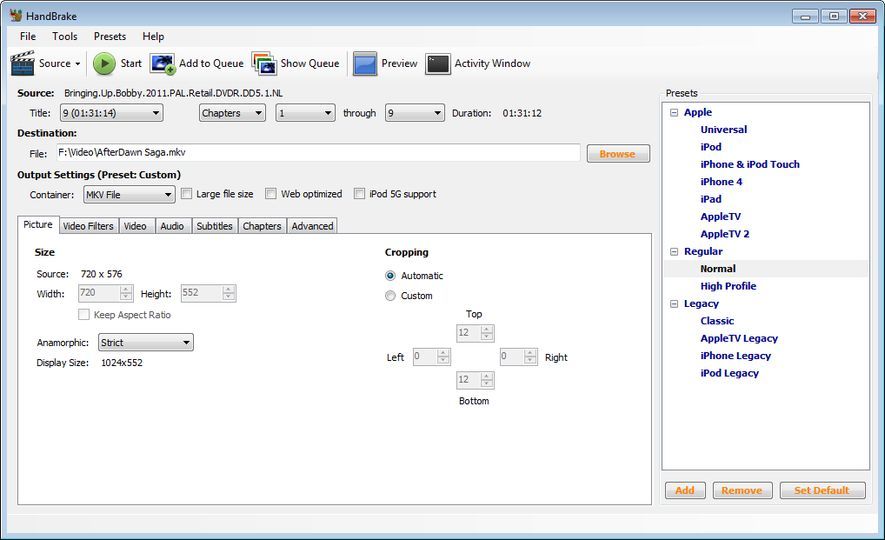 SCREENSHOTS DE
Contraseña/Para abrir los Archivos: www.mundodelvago.com
Descargar
LOS MEJORES PROGRAMAS
EN TU CORREO
Suscríbete a nuestra lista de correo y no te pierdas nuestras últimas publicaciones.